Featured Property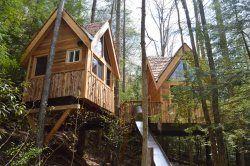 *Family Friendly!* The Tradewinds Treehouse: our newest Adventure.
Guest Reviews
You have a great location, great amenities, kind and helpful staff, running water, electricity, fire place, and great trail out back. 5...
You cabin was great, scenery is wonderful, by far the best cabin we have stayed in (and we have stayed in a lot of cabins), exce...
View More Reviews